I have learnt a lot about various technologies through the process of creating our film opening. We used various technologies to construct our product, meaning that it is a form of technological convergence, as we put lots of different technologies together to create a single product.
Sony Bloggie (We named ours Ralph)
The Bloggie was the camera we used to film our film opening with. It's very simple to use, so it wasn't difficult getting used to using it to film with. The bloggie records in

1080p HD, which is a common quality today, so the quality of film recorded was of a high quality. Despite the good quality of film, the Bloggie doesn't have a very high sound quality, meaning that diegetic sound was a slight problem to include in our film opening unless the camera was very close to the person speaking. As a result of this, we used mostly non-diegetic sound (music, voice overs) in our coursework. The data recorded is all stored locally on the Bloggie, which can then be transferred via USB. This was very useful, as if the data was stored on a memory card, we may have had to convert the data into a compatible format to open on to the iMac, which we used for the editing.
We also used the camera on Sarah's BlackBerry to take a photo which features in the final draft of our film. We could have used the Bloggie, but as we were playing teenage girls in that scene, who were taking a picture of themselves, we thought it would be more appropriate to use a mobile phone instead of a video camera.
As I'd never properly used a Mac (for an actual task instead of just scrolling down Tumblr when I should have been doing work in year 10/11) before, I've learnt a lot about using them whilst producing our film opening. They're very efficient for what we were using them for (editing our film), although when I tried to open Fireworks on the Mac to create our production company logos, the whole thing froze up. (I'm not sure why this is as I'm not a computer genius, but Harry suggested it was because the memory or RAM on the Macs isn't too good.) I have learnt that you can't run too many programmes at once on a Mac, as that too will cause it to become unresponsive no matter how much you shout at it demanding it to work.
Final Cut Pro (FCP) is the editing software we used to edit our coursework with. FCP has two main tracks, one for video and one for audio, which was useful when putting the non-diegetic voice over and music over the top of our film. I have used FCP in the past, but not in nearly as much depth as we did in our film opening, so I have learnt a lot during the process of constructing our product. For example I now know how to use various editing techniques, such as transitions, filters, and how to put text on the film. I have also learnt how to use the colour correction tool, which was very useful when editing, as a lot of the film we recorded, particularly in my living room was very orange toned.
Garage Band (open on our Mac. Isn't the hat dashing?)
I have never used Garage Band before, and neither had anyone in my group, so we took a while to get used to it, but we managed to record our voice overs and music onto Garage Band, which were then imported into FCP. It was actually very simple to use as much like FCP, it has tracks which the recorded data goes along, and it is very easy to cut or change the order of the sound. We looked at a lot of the effects that Garage Band offers which we thought we could use to make my voice over sound more creepy, although we didn't use them in the end, as a lot of them were very comedic, which was not the effect we were going for. To use Garage Band we also used a microphone to record the sound onto the Mac. The microphone was very sensitive when picking up sound, so it had to be silent whilst we were recording.
We used a keyboard to record the music in the first scene. I can't play the keyboard, so I didn't use it, but me and Hannah did give Sarah some ideas. We all also researched together how we wanted our music to sound.
MS Paint (because Fireworks wouldn't work on the Mac)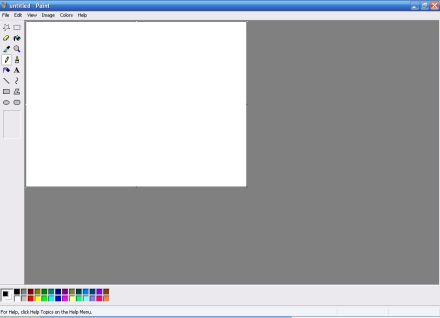 We used MS Paint to create our production company logo. I already knew how to use Paint, but I did learn that even though it isn't a very 'professional' programme, it still works well.
These social networking sites have helped me and my group during the production of our coursework. For example, YouTube allowed us to upload various different drafts of our work, allowing the public to see our work so far.
The other sites were used by me (and my group most likely) to gain feedback on these different drafts of our work to know how we could improve.
Tumblr was the most useful for me, as it is the site I have the most 'followers' on, so I got lots of feedback from there.